Have a suggestion or correction? A volunteer can help update the website! To report an issue, go to the Swtorista Website Discord and post your report as a single message in the #report-issue channel. You will need to make a free Discord account.
Similar Armor Sets
These armors have a very similar shape to the THORN Sanitization armor set.
THORN Containment
More Environment Armors
Forest Scout
Marshland Ambusher
BK-0 Combustion Armor
Mythran
Imperial Field Agent's
Outlander Scavenger's
Duststorm Survivor's
Rugged Infantry
Wastelander's
Ubrikkian Industries Corporate
Wasteland Raider's
Republic Protector's
More Environment Armors
More Red Armors
Sith Combatant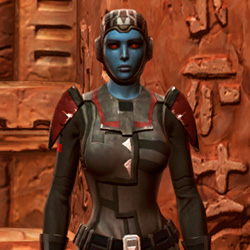 Blade Tyrant
Voltaic Sleuth
Darth Malak's
Proficient Hitman's
Stalker's
Ulgo Noble
Plasteel Battle
Romex Force Expert's
Ablative Plasteel
War Hero Stalker (Rated)
Ardent Oracle's
More Red Armors
More Light Pants Armors
Relic Plunderer's
Deep Cover Operative's
Sly Operator's
Citadel Pummeler
Energetic Champion
Commando
Fortified Lacqerous
Shadow Disciple's
TD-17A Imperator
Terenthium Onslaught
Righteous Mystic
Mantellian Privateer
More Light Pants Armors
Outfit Database ID: 1186 - Added: 0000-00-00 00:00:00 - Opposite: 0 - Identical: 0 - Similar: 1186
Like this

guide?Pledge to support Swtorista videos, guides and lists!
✚ Support with Patreon
✚ Support with YouTube
✚ Support with Twitch
In return, get:
Discord Chat
50+ Lore Audio Readings
Ensure future of guides!